School days with the Autumn colors.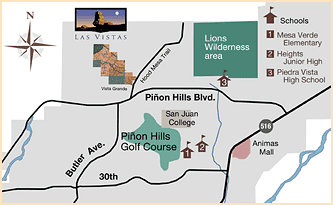 Nearby area schools. Click for a larger view.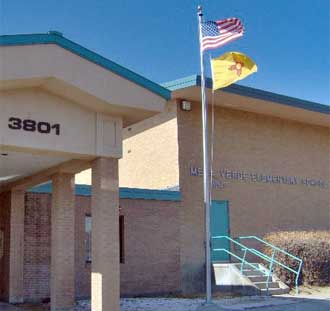 Mesa Verde Elementary School.
Nearby Farmington Area Schools
These are the schools located closest to Las Vistas. Right in the neighborhood, as a matter of fact. Here you will find a wealth of information on sports/activities, music programs, schedules and much more.

Piedra Vista High School
The beautiful Piedra Vista High School campus, located at 5700 College Blvd., was built in 1997. It is the "Home of the Panthers" and has an average enrollment of 1,200 students grades 9 through 12. PVHS is a full comprehensive high school, which also offers its students classes (culinary arts, welding and auto mechanics) at the District's Career and Technical Education Center (CATE).

Heights Middle School
Heights Middle School is located at 3700 College Blvd. is the home of approximately 650 students in grades 6 through 8. Heights has recently been totally renovated and remodeled. It's almost like a new school and is now more spacious and inviting for students and their families.

Mesa Verde Elementary School
Mesa Verde Elementary School is located at 3801 College Boulevard. It has approximately 425 students in grades kindergarten through 5th grade. It is a warm and inviting school with active and involved parents and dedicated staff.

San Juan College


San Juan College offers over 72 different degrees and certificates in Health Sciences, Business and Information Technology, Continuing Education, Energy, Extended Learning, Humanities, Math and Science, and Trades & Technology. SJC began in 1956, and the college now has a credit enrollment of more than 5,500 students per semester.