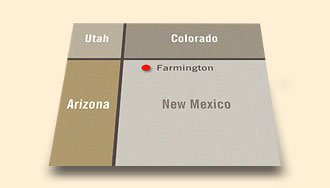 The Four Corners of the Southwest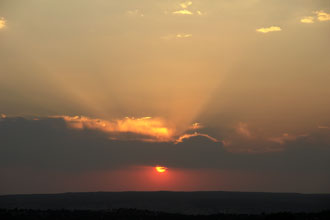 Big skies mean big sunsets.
Las Vistas is located within the city limits of Farmington, in northwestern New Mexico. This is the hub of the Four Corners area, high desert country, known for its wonderful climate. This is a land of sandstone canyons, carved over millions of years, lush river valleys lined with cottonwoods, and sacred land to several indigenous Native American tribes.

Once inside Las Vistas, you are immediately met with sweeping vistas in every direction. To the southwest, Shiprock etches a striking silhouette on the horizon and to the north the La Plata Mountains and Weminuche Wilderness can be seen.

The mountains of Colorado are a mere hour away (think fabulous skiing and whitewater rivers). The famed Canyonlands of southeast Utah and red deserts of Arizona (think Monument Valley), just a little farther away.

The magical light of the southwest draws artists from all over the world. Dramatic skies that sweep from horizon to horizon and magnificent sunsets decorate the land on a daily basis.